SAS Lectures(via Zoom): 1. Star of Bethlehem 2. Science of Santa
About this event :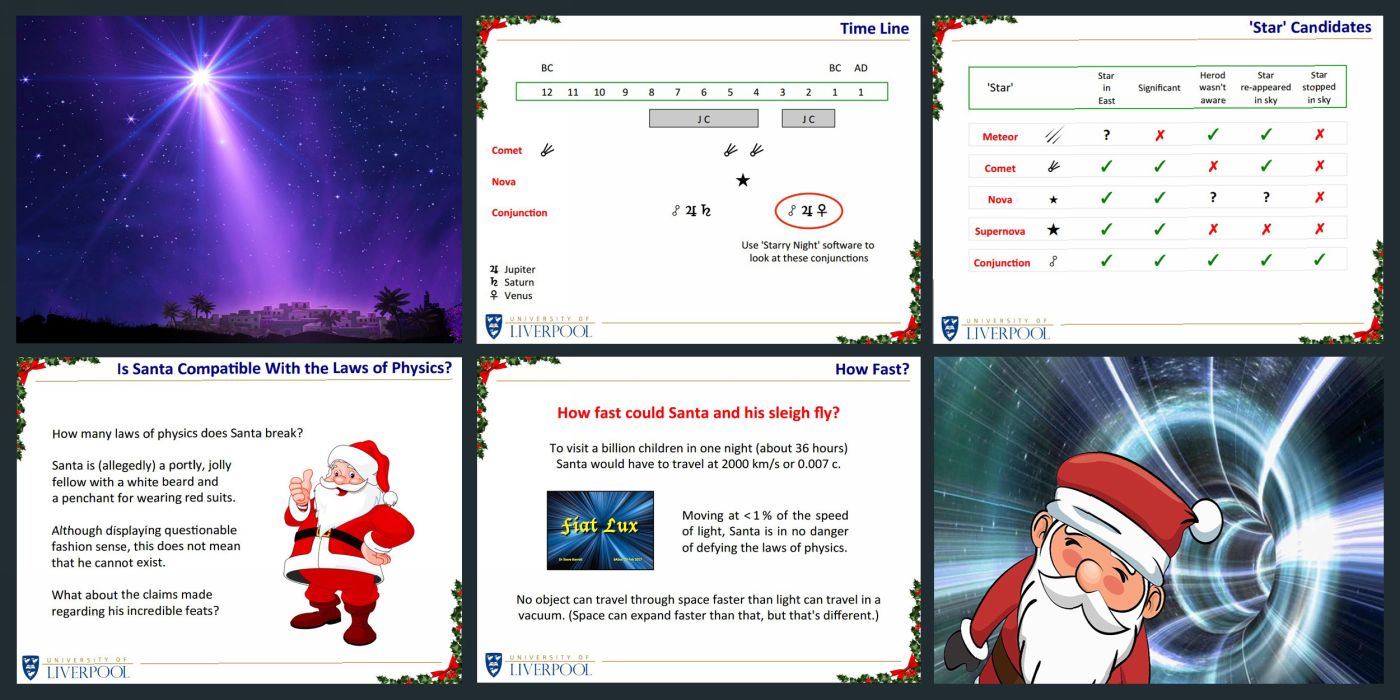 There are 2 short talks for our SAS Christmas/festive themed Lectures in December:
Star of Bethlehem.

A light-hearted look at the Gospel of St Matthew.

What are the astronomical candidates for the Star of Bethlehem?
How well do they fit the account?
Do known events fit the timeline of the nativity?

Science of Santa

A short tongue-in-cheek 'stocking-filler' talk for the festive season.

Is Santa Claus real? How many laws of physics does he break?
Can his (alleged) feats be reconciled with scientific reasoning
These are the just some of the questions questions Dr Steve Barrett wll be tackling in these lectures.
When Who Where
Date: Sunday 19th December 2021.
Time: 7pm.
Speaker: Dr Steve Barrett, Department of Physics, University of Liverpool.
Venue: Internet – using Zoom Pro with related Q&A afterwards (See Zoom video meeting request details below).
Talks using Zoom
Due to current Washington Wetlands Centre pandemic group restrictions this month's talk will be taking place using Zoom Pro
Therefore if you interested in viewing and participating (i.e. Q&A) in this month's talk, please send an email request to zoom-meetings@sunderlandastro.com
Stating your:
Name
If you are a current/potential member (i.e. Single, Family, Concession, etc)
And if it's agreeable you will be then sent details on How to join the Zoom video meeting for the SAS talk.
The requisites will be:
Meeting ID – 375 091 0450
Password Begins with "C*****"
Our speaker
Dr Steve Barrett, Department of Physics, University of Liverpool.
Steve is a Senior Research Fellow in the Department of Physics, my research interests span all aspects of imaging, image processing and image analysis.
This includes medical imaging (biophysics), scanning probe microscopy of atoms, molecules and surfaces (nanophysics), microscopy of earth materials (geophysics) and astrophotography.
Honors & Prizes:
Sir Patrick Moore Prize (British Astronomical Association, 2019)
Greatest Contribution to the Student Experience (U Liverpool, 2017)
Senior Fellow of the HEA (Higher Education Academy, 2015)
Guild 'Lion' Award (Liverpool Guild of Students, 2010)
Institute of Physics Prize (Institute of Physics, 2007)
Sir Alastair Pilkington Award for Teaching Excellence (U Liverpool, 2004)
Your host : Martin Kennedy