Stargazing Live: Astronomy & Stargazing Support Event
About this event :
In suppot of the BBC Two's Stargazing Live shows on BBC2 on Wednesday 18th, Thursday 19th, & Friday 20th (morning of partial solar eclipse) March, Sunderland Astronomical Society and other invited Astronomical Society's will be running our own Stargaing Live events on Friday 20th & Saturday 21st March 2015, from 6:30 pm.
Join local astronomers from across the North East for a fun night of assorted astronomical treats at the Cygnus Observatory at the WWT Washington Wetlands Centre.
The Jupiter Nights Events (23rd/24th Jan 2015) were a phenominal success around 1200 people attended and proves there is interest & desire to look through telescopes and find out about your universe.
So don't miss out.
Powerful telescopes will be available to unveil, the mighty planet Jupiter and its four largest moons.
See the amazing stellar nursery, the Orion Nebula (M42) with ongoing star formation.
See a gorgeous star clusters such as "The Seven Sisters" and "The Beehive" clusters, comet Lovejoy,  the Andromeda galaxy.
Plus many other wonders of the night sky.
Suitable for all ages.
No expereience necessary.
Lots of telescopes of all shapes and sizes.
Interactive talks, presentations & workshops with Q&A.
Expertise and advice from local astronomers.
Videos, Lectures  and Demonstrations:

Introduction to Astronomy.
Astronomy from the Suburbs.
An introduction to Exoplanets.

Radio Astronomy (Live Meteor Detection).
Astro Vendors to supply your astro kit needs;
Cafe refreshments available to buy.
Bring suitable clothing for weather.
Free Entry.
Please Note:  If you are under 18, ask your parent/guardian before taking part in any activity.
Warning: For Friday 20th only. Parking is limited and we are suggesting that people who can arrive after 7:30 pm do so to avoid disappointment. This only for the Friday as we've got the overspill (at nearby HMRC) parking available on the Saturday 21st.
Site Plan for the Event (click image to expand)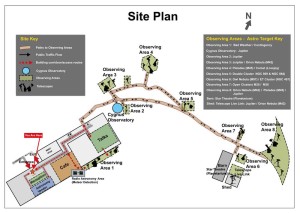 Your host : Martin Kennedy