Jupiter Nights: An Introduction to Stargazing & Astronomy
About this event :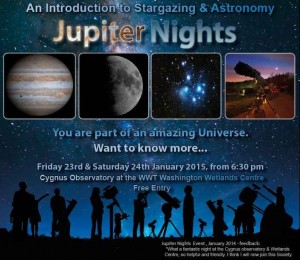 Join local astronomers for a fun night of assorted astronomical treats at the Cygnus Observatory at WWT Washington Wetlands Centre.
Powerful telescopes will be available to unveil the Moon, the mighty planet Jupiter and its four largest moons.
See the amazing stellar nursery, the Orion Nebula (M42).
See a gorgeous star clusters such as "The Seven Sisters" and "The Beehive" clusters.
Plus many other wonders of the night sky.
Suitable for all ages.
Lots of telescopes of all shapes and sizes
Interactive presentations & workshops with Q&A.
Expertise and advice from local astronomers.
Videos, Lectures  and Demonstrations.
Astro-related Craft area for children.
Astro Vendors.
Cafe refreshments available to buy.
Bring suitable clothing for weather
Free Entry
---
Site Plan
Below is a site plan for the events.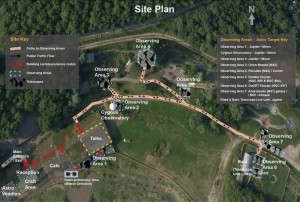 Terrain map courtesy of Google Earth.
There is aslo a specific Observing Target List that will be sent to all agreed AS particpants, that will be sent out the night before the event.
Your host : Martin Kennedy