Jupiter Nights at Cygnus Observatory
About this event :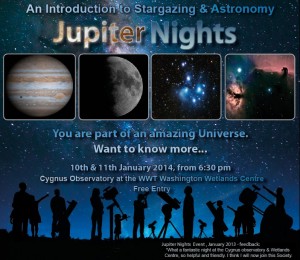 You are part of an amazing universe. Want to know more?…
For an evening full of assorted treats in the night sky, join our local astronomers in observing the wonders of the universe.
Powerful telescopes will be available to unveil the Moon, the giant planet Jupiter and its four largest moons; the amazing stellar nursery called the Orion Nebula; a gorgeous collection of star clusters including "The Seven Sisters" and "The Beehive;" plus many other wonders of the Universe.
The evening will include videos and demonstrations, talks, stalls and a craft area, with expertise on hand.
Free Entry.
Hot food and drinks can be purchased from the Wetlands cafe.
Your host : Martin Kennedy