Cygnus Night: An SAS Fundraiser Event
About this event :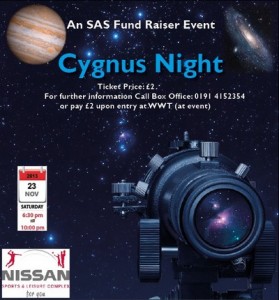 On Saturday 23rd November 2013 Nissan Sports and Leisure Complex (NSLC) will once again be welcoming the Sunderland Astronomical Society for another special night of stargazing.
UPDATE 15/11/13:  Due to unforeseen Nissan plant construction work on the Nissan Sports & Leisure Complex(NSLC) grounds, the fundraiser event is to be moved to the Washington Wetlands Centre, the home of our societies' Cygnus Observatory. Any members of the public turning up for this event at NSLC will be redirected to our Washington Wetlands Centre."
Open to the public, you will be able use the Society's members telescopes to look at the delights of the autumn sky,including the moon, planets Jupiter and Uranus, beautiful star clusters along the Milky Way, and the giant Andromeda Galaxy, among other sights.
There will be plenty of opportunities to talk to astronomers, see how their telescopes work, and get advice & information.
Any funds raised from donations from this event will go towards replacing the society's "Cygnus" observatory dome & telescope mount which is based at WWT, and which supports your local community.
Article in Wednesday's (20/11/13) Echo "Stargazers Save Our Scope (SOS) – can you help Sunderland Astronomical Society buy a new telescope kit?
Your host : Ian Aiken
Ian Aiken is a keen amateur astronomer. His primary focus is Astrophotography but loves to get out under the stars now and then for some great observing. Ian is on the committee of SAS and currently holds the role of webmaster for the new SAS website (although he encourages members to participate and publish content).