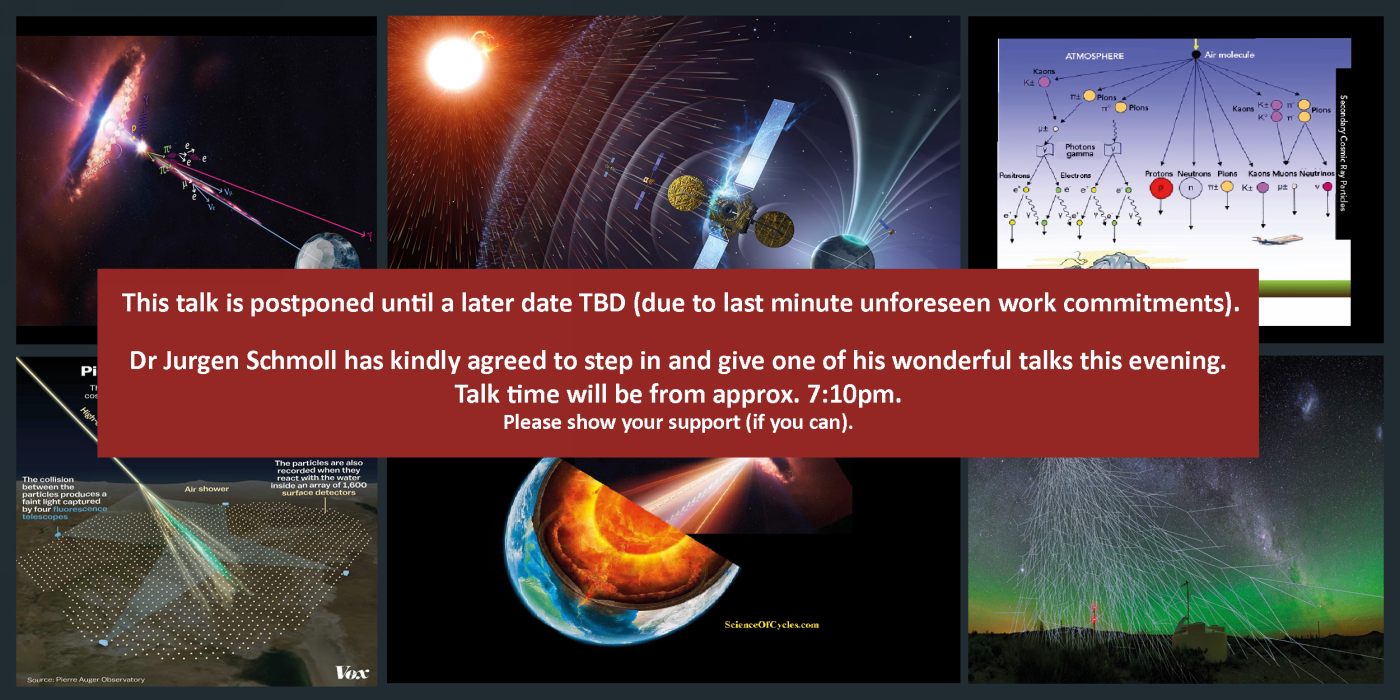 Please Note: This talk is postponed until a later date TBD (due to last minute unforeseen work commitments).
Dr Jurgen Schmoll has kindly agreed to step in and give one of his wonderful talks this evening.
Eyepieces – the interface between technical and human optics.
Instrument scientist – working behind the scenes of astronomical research (my job).
Astrophotography (introduction, DSLR based).
DESI (research talk about our participation to make the fibre cables for the survey instrument at the 4m Mayall telescope, Kitt Peak).
Alternative Skies (the weather, with storm chasing … not that astronomical but with many astronomical touching points).
Filters ("the universe through tinted glasses").
Talk time will be from approx. 7:10pm.
Please show your support (if you can).
When Where Who
Date: Sunday 19th February 2023,
Time: 7:10pm.
Speaker: Dr Jurgen Schmoll
Venue: At the Washington Wetlands Centre (Discovery Room ) and Via Zoom.
Our speaker
Our speaker is Dr Jurgen Schmoll a is a member of Astronomer and Instrument Scientist based at the Centre for Advanced Instrumentation and in the Department of Physics, Durham University.
He is also an honorary member of the SAS, Secretary of DAS and chair of CaDAS)
The talk will held at the Washington Wetlands Centre (Discover Room) on Sunday and will run via Zoom .
If you haven't been in a while why not come along.
Talks at the Wetlands and via Zoom
Talks at Wetlands Centre
The SAS is planning to run this lecture from the our base of operations Washington Wetlands Centre (in the usual Discovery Room) and via Zoom.
Suitable hand sanitisers will be located in the room and at the our observatory.
Talks via Zoom
SAS Talks at the Wetlands Centre will also shown via Zoom.
However, this Zoom internet connection B/W can be temperamental and cannot always be guaranteed when set up from the Wetlands Centre
We aim to continue this capability depending upon the circumstances and/or location of the speaker for the talk.
Zoom Access
Therefore if you interested in viewing and participating (i.e. Q&A) in this month's talk, please send an email request to zoom-meetings@sunderlandastro.com
Stating your:
Name
And if you are a member or if you have a just a general interest in attending our lecture(s)
We will then send you details on How to join the Zoom video meeting for the SAS talk.
The requisites will be:
Meeting ID – 375 091 0450
Password Begins with "C*****"