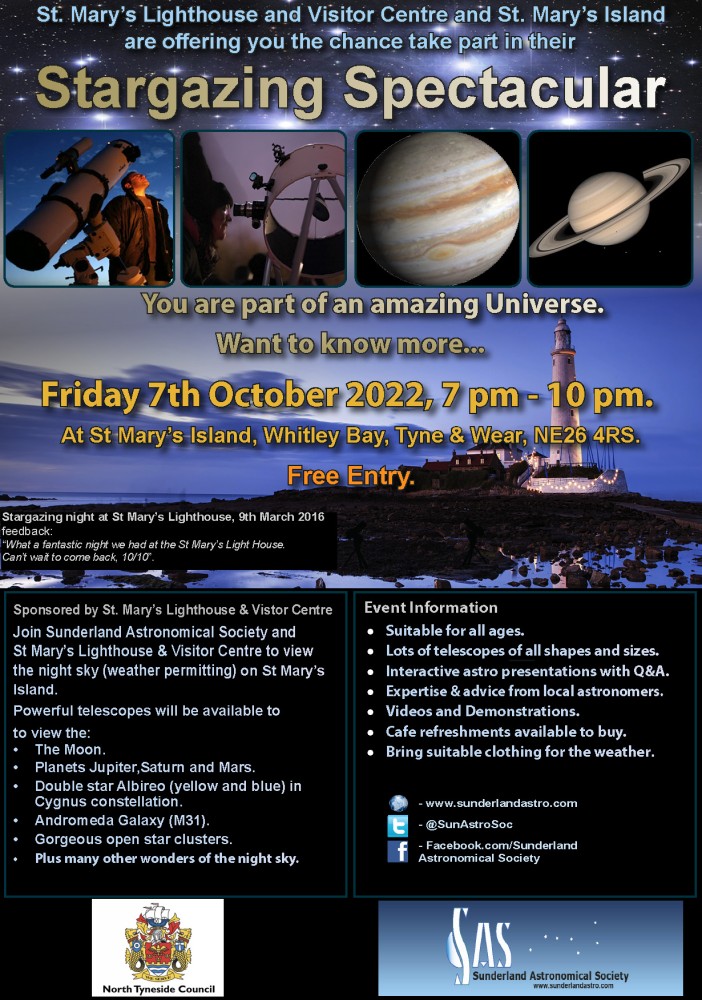 SAS have been invited by St Mary's Lighthouse & Visitor Centre to participate in this event: observing, talks & SAS stuff at St Mary's lighthouse on Friday 7th October 2022.
This is one of the biggest annual events in our calendar and it's not too late to decide to come, we always need as many members as possible.
The event will run from 7pm to 10pm members bringing telescopes or assisting can arrive early but the tide will probably only allow us to cross the causeway after 5pm.
No cars are allowed on the island, however we have permission to temporarily take our equipment over and drop it off then return and park in the public carpark which is free after 6pm. Members who have attended this event before know the drill very well. We will have Marshalls at each side of the causeway to guide you.
Date: Friday 7th October 2022.
Event Times: 7 pm to 10 pm.
Location: St Mary's Island causeway, Whitley Bay. NE26 4RS.
---
Drive onto St Mary's Island to unload your Astro kit and report in the main car park.
Car park fees up to £2.50 and will be reimbursed.
Usual charges to climb steps of lighthouse should anyone wish to do so.
There will be a talks from SAS members (TBD) upstairs in the building next to the lighthouse there is a conference room.
There will be SAS leaflets, merchandise and promotional material for people to take away with them.
We need as many SAS members astronomers & volunteers as possible as this be a big event, with & without telescopes to support this event.