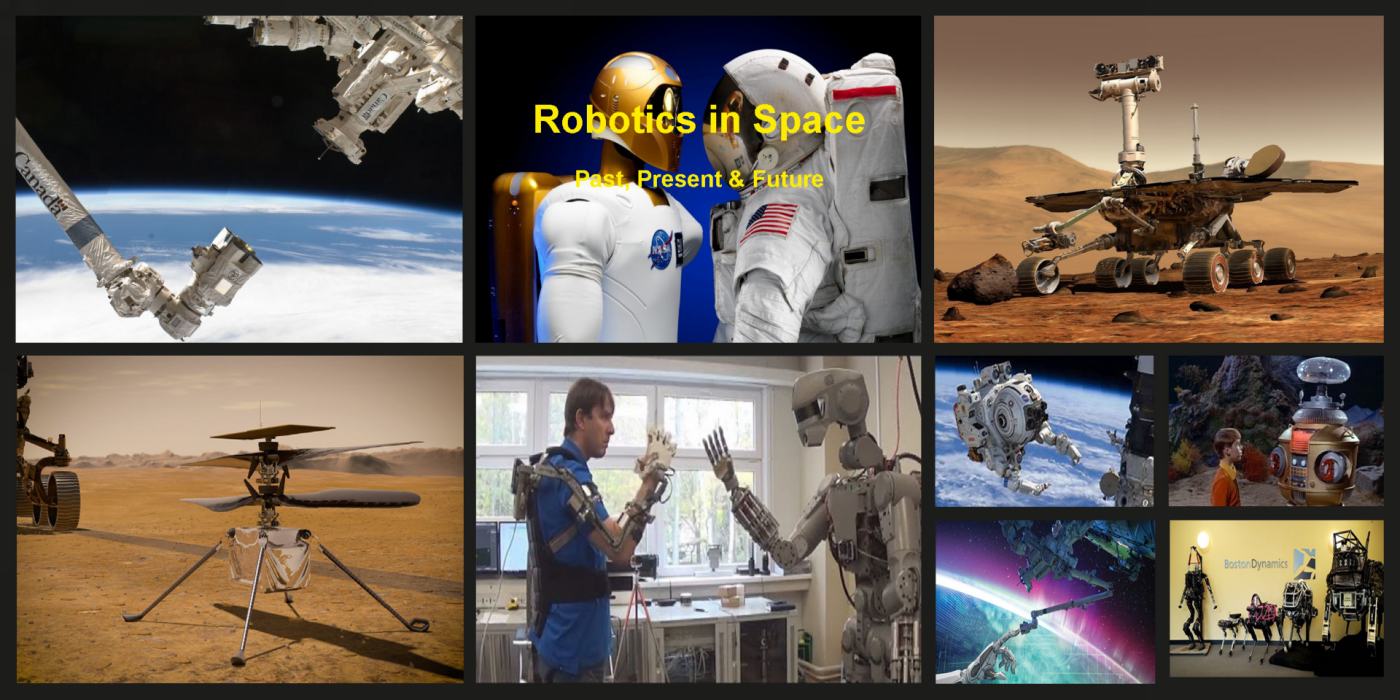 In this fascinating and wide scoping talk Graham Edwards will talk about robotics from early day automatons from past, their use in science fiction to their current use through to artificial intelligence (AI) and machine learning.
The scope of this talk is quite wide so the areas will be covered briefly and Graham hopes light heartedly.
While space exploration may be considered anything but dull, it certainly is very dangerous.
Expanding our knowledge on the solar system to look for clues to such fundamental questions as the origins of life, or a sustained human presence on anything other than earth may well be worth the risk.
Robotic missions, like the hugely successful Mars Exploration Rovers, have shown that robotics using Artificial Intelligence that can perform scientific exploration activities without human presence.
They will play an even more prominent role in future mission scenarios. Technology research efforts are continuously expanding the capabilities of mobile robotic systems.
We send robots to explore space without having to worry so much about their safety.
Of course, we want these carefully built robots to last. We need them to stick around long enough to investigate and send us information about their destinations. But even if a robotic mission fails, the humans involved with the mission stay safe.
Sending a robot to space is also much cheaper than sending a human. Robots don't need to eat or sleep or go to the bathroom. They can survive in space for many years and can be left out there—no need for a return trip!
Plus, robots can do lots of things that humans can't.
Some can withstand harsh conditions, like extreme temperatures or high levels of radiation. Robots can also be built to do things that would be too risky or impossible for astronauts.
Talks using Zoom
Due to current Washington Wetlands Centre pandemic group restrictions this month's talk will be taking place using Zoom Pro
Therefore if you interested in viewing and participating (i.e. Q&A) in this month's talk, please send an email request to zoom-meetings@sunderlandastro.com
Stating your:
Name
And if you are a current/potential SAS member (i.e. Single, Family, Concession, etc) or your interest
And if it's agreeable we will be then send you details on How to join the Zoom video meeting for the SAS talk.
The requisites will be:
Meeting ID – 375 091 0450
Password Begins with "C*****"
When Who Where
Date: Sunday 20th February 2022,
Time: 7pm.
Speaker: Graham Edwards.
Venue: Via Zoom (due to pandemic social distancing restrictions at the Wetlands Centre – Zoom meeting joining instructions will be sent via our SAS email alert near the talk date).
Our speaker
Our speaker is Graham Edwards is a long standing and active member of Sunderland Astronomical Society (SAS) who enjoys observing the stars and public astronomy outreach in the local community.