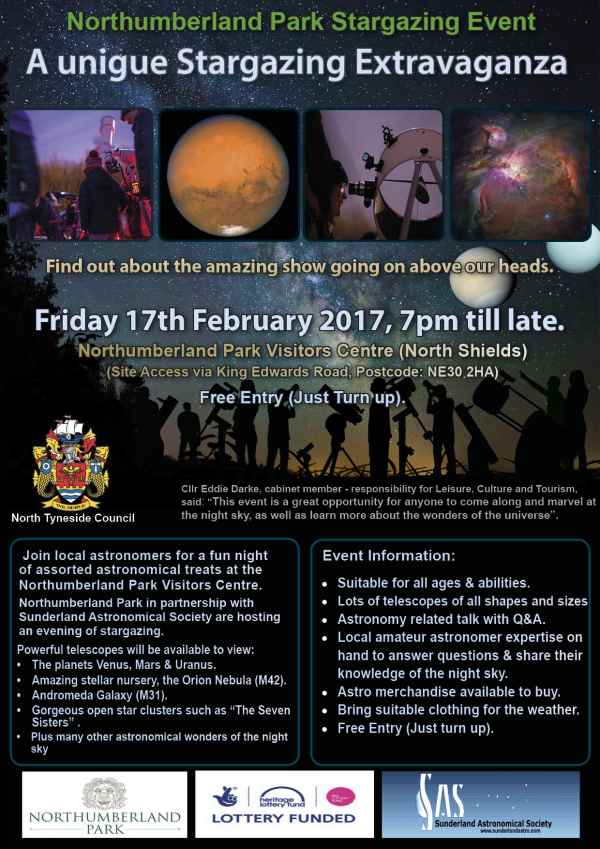 Back by popular demand, Sunderland Astronomical Society are will visiting Northumberland Park).
Date: Friday 17th February 2017.
Time: from 7:00 pm.
Entry: Free
(Contributions to SAS fundraising nonetheless welcomed).
SAS have been asked by the Northumberland Park (the park in North Shields) to hold a Stargazing event on Friday 17th February from 7.00pm till late.
There will be access up to the observing site so no carrying heavy equipment AND our cars will be allowed to park nearby lane on site. For sitemap and parking notice, see links below.
COULD PARTICIPANTS PLEASE LET OUR CHAIRMAN KNOW IF YOU ARE INTERESTED IN ATTENDING AND WHAT ROLE, for e.g.
Name type of scope and mount would help with organiaing event.
For the related SAS group Facebook post, see link.
For Northumberland park's site-map, parking notice, see relevant links.
Directions to the park can be obtained via the event map in the Events Calendar.
ATTENTION: NORTHUMBERLAND PARK – SAS PARTICIPANTS
The postcode for satnav is incorrect.
PLEASE USE NE30 2ER (tynemouth golf course) code. But do not park in the Golf Course, entrance to Northumberland park is further along King Edwards road.
Use the site-map on entry on to park.THIS FOR THE ATTENTION OF SAS OFFICIAL PARTICIPANTS.
We need as many SAS members astronomers & volunteers to participate as possible with & without telescopes to support this event.
High Resolution PDF of the event poster available to download.
Powerful telescopes will be available to view:
---
The planets Mars & Venus.
The planet Uranus, seventh planet outward from the sun.
Globular cluster, Open Galaxy Clusters, Double Clusters(NGC 869/884)
Amazing stellar nursery, the Orion Nebula (M42).
Andromeda Galaxy (M31)
Gorgeous open star clusters such as "The Seven Sisters" (M45).
Plus many other wonders of the night sky.
Entry: Free.
All proceeds go directly to the SAS fundraising.
Contributions to Society fundraising nonetheless welcomed.
Information & Activities:
---
Suitable for all ages.
Telescopes of all shapes and sizes
Supported by the North East's largest astronomical society.
Lots to see and do.
Interactive presentations with Q&A.
Expertise & advice from local SAS astronomers.
Videos and Demonstrations.
Stargazing friendly torches to buy

Plus lots of other society related merchandise to buy

Refreshments available to buy.
Bring suitable clothing for the weather.