Jupiter Nights at Nissan
About this event :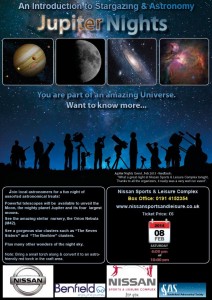 Join local astronomers for a fun night of assorted astronomical treats! Powerful telescopes will be available to unveil the Moon, the giant planet Jupiter and its four largest moons. The amazing stellar nursery, the Orion Nebula, a gorgeous collection of star clusters including, "The Seven Sisters" and "The Beehive" clusters. Plus many other wonders of the Universe.
Suitable for all ages.
Two inflatable planetariums available.
Interactive presentations with Q&A.
Astronomy expertise and advice from astronomers.
Videos and Demonstrations.
Astronomy vendors (Green witch, Grovers Astronomy & more…).
Astronomical Society & Institute of Physics Society stalls.
Craft area for children.
Hot food and drinks stalls.
Bring a small torch & convert it to an astro-friendly red torch in the craft area.
Travel Instructions:
Enter the site by following the signs directing you to Nissan Offices/Aircraft Museum off A1290. Then turn right on mini roundabout.  You  will pass through a Nissan security check point where you will be directed to the parking for the Jupiter Nights event at Nissan Sports & Leisure Complex and grounds.
Your host : Martin Kennedy