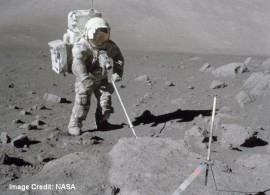 Dr Carol Kiely visiting research scholar in the Department of Materials Science and Engineering at Lehigh University, Pennsylvania, USA  and SAS member,  will be giving a talk on "The Microscopic World of Lunar Dust" on Sunday the 18th December 2016 from 7 pm in the Discovery room of Washington Wetlands Centre .
"Magnificent Desolation". Those were the words uttered by Apollo 11 astronaut Buzz Aldrin as he allowed his eyes to take in the starkness and monochrome hues of the lunar surface.
The scene was a pristine desert landscape, but instead of the familiar beige-colored sand, the entire surface was covered in a fine, charcoal-gray powder. Despite being the focus of intense scientific study for over forty years, very few optical micrographs of lunar dust particles have been published.
Details