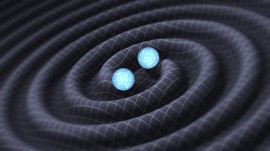 Gravitational waves offer a new way to uncover the universe.
General relativity suggested their existence, but even Einstein wasn't sure about them. It wasn't until the 1970s that there was evidence of their existence, but it took 40 years to be able to detect them.
Now we can detect these ripples in space time, what do they tell us about black holes, neutron stars and the fundamental nature of the universe?
There are many wonderful images (public domain) at the LIGO website https://www.ligo.caltech.edu/images
Details