SAS Lecture: The Pluto Story
About this event :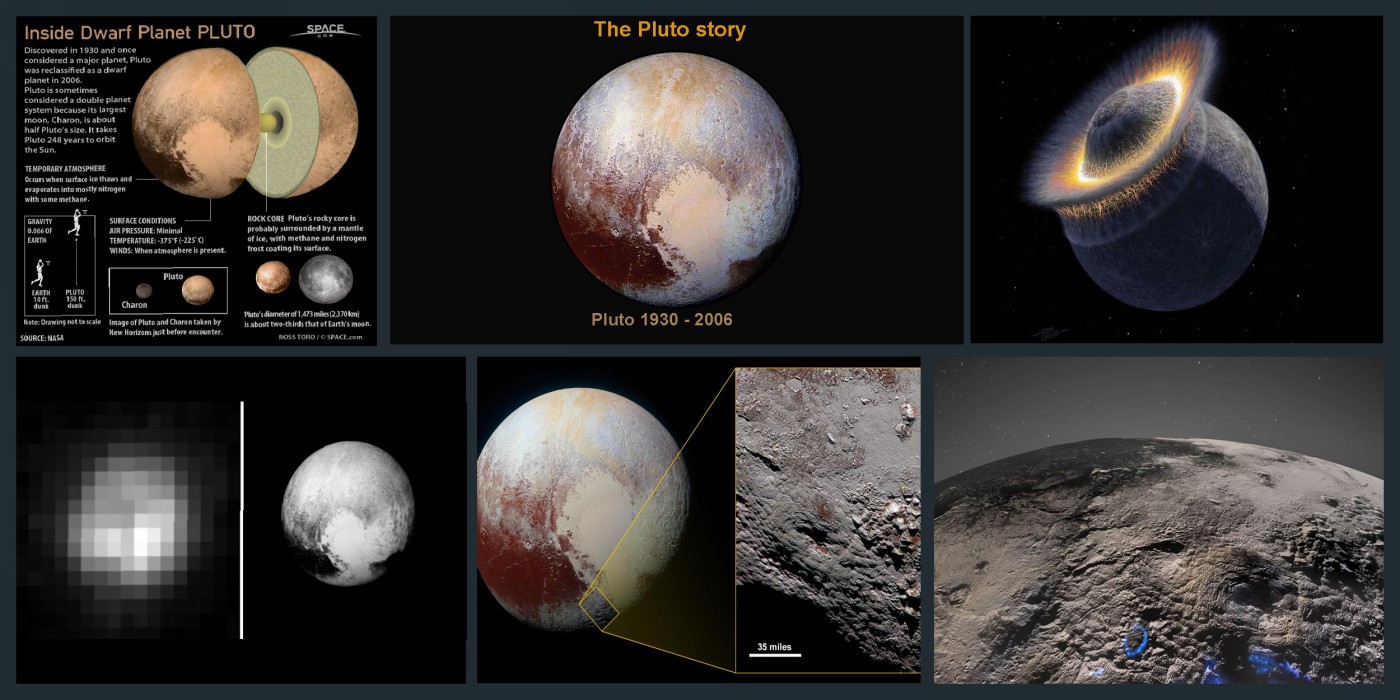 This talk is all about Pluto, how it was discovered in 1930 and how discovery and observations of KBOs eventually led the International Astronomical Union (IAU) in 2006 to declassify Pluto from being a planet.
Although 'what is a planet?'
Might seem to be an easy question to answer, it turns out that the ensuing debate by professional astronomers was both complicated and fractious.
The twists and turns of how Pluto finally came to be demoted by the IAU are revisited on a personal basis – astronomical democracy in action – or not, and what was the legacy from the decision.
Pluto was officially demoted to the utterly humiliating status of a dwarf planet in 2006. Back before we utterly shattered its dreams of stardom (planetdom?), what was the history of our favourite dwarf?
When Where Who
BSc, Phd, FRAS, CPhys, FInstP.
ROE Fellow
Director UKATC 2005-2012, Director STFC Technology Dept 2009-12
UK Astronomy Technology Centre
Royal Observatory, Edinburgh
Blackford Hill
Edinburgh
EH9 3HJ
Venue: At the Washington Wetlands Centre (discovery Room ) and Via Zoom.
Our speaker
Professor Ian Robinson.
History
1969: First class honours in Physics from Queen Mary College, London;
PhD in observational cosmology from QMC – making the first observation of the turnover of the 3K cosmic background radiation, showing the Plankian nature of the spectrum;
Lecturer at QMC and MSc Astrophysics Course Organiser;
1978: Senior Lectureship at Preston Polytechnic;
1983: Reader in Astrophysics University of Central Lancashire (UCLAN);
1986: Chair in Astrophysics;
1987 – 1992: Head of Department and Director of Observatories UCLAN;
1992 – 2002: Director of the James Clerk Maxwell Telescope and the Joint Astronomy Centre, Hilo, Hawaii;
2005: Honorary Professor University of Edinburgh;
2006: Honorary Fellow University of Central Lancashire;
Research interests
submillimetre astronomy
active galaxies
multifrequency observations of blazars
debris disks
Published over 200 papers in astronomy, a textbook on Active Galactic Nuclei, edited four international conference proceedings.
Course organiser and originator of many astronomy and science and society courses (London and UCLAN), supervised 14 PhD and 2 MPhil students.
Member of / chair of numerous SERC/PPARC committees/boards from 1980 – 1992.
President of the International Astronomy Union Commission 55 on "Communicating Astronomy with the Public 2005 – 2008";
IAU working Group on the International Year of Astronomy 2009;
UK lead for IYA2009;
Council Member of the Royal Astronomical Society 2005 – 2008;
Vice President of the Royal Scottish Society for the Arts 2008 – 2011.
President of the Royal Scottish Society for the Arts: 2011-2014.
Vice-President of the Society for Popular Astronomy: 2013-2014.
President of the Society for Popular Astronomy 2014-2016
IAU Office for Astronomical Development: Chair Task Force 3 – Communicating Astronomy with the Public: 2012-2015.
IAU Commission 55: Chair CAP Conference Series.
Talks to the Public
Ian is willing to give talks to the general public or astronomical societies in the UK on the following topics:
Supercool Astronomy
Active Galaxies and Supermassive Black Holes
Why do we need Telescopes
Discovery of Quasars
Discovery of the Cosmic Background Radiation
Confessions of an Astronomer
The talk will held at the Washington Wetlands Centre (Discover Room) on Sunday and will run via Zoom .
If you haven't been in a while why not come along.
Talks at the Wetlands and via Zoom
Talks at Wetlands Centre
The SAS is planning to run this lecture from the our base of operations Washington Wetlands Centre (in the usual Discovery Room) and via Zoom.
Suitable hand sanitisers will be located in the room and at the our observatory.
Talks via Zoom
Due to current Washington Wetlands Centre pandemic group gatherings advice we have previously run SAS lectures via Zoom Pro which has worked quite successfully.
This has also enabled the society to widen our scope of speakers and to contact and deliver talks from SAS speakers/professional astronomers from further afield nationally and internationally.
We aim to continue this capability depending upon the circumstances and/or location of the speaker for the talk.
Zoom Access
Therefore if you interested in viewing and participating (i.e. Q&A) in this month's talk, please send an email request to zoom-meetings@sunderlandastro.com
Stating your:
Name
And if you are a member or if you have a just a general interest in attending our lecture(s)
We will then send you details on How to join the Zoom video meeting for the SAS talk.
The requisites will be:
Meeting ID – 375 091 0450
Password Begins with "C*****"
Your host : Martin Kennedy