SAS Lecture: ABC of Galaxy Evolution
About this event :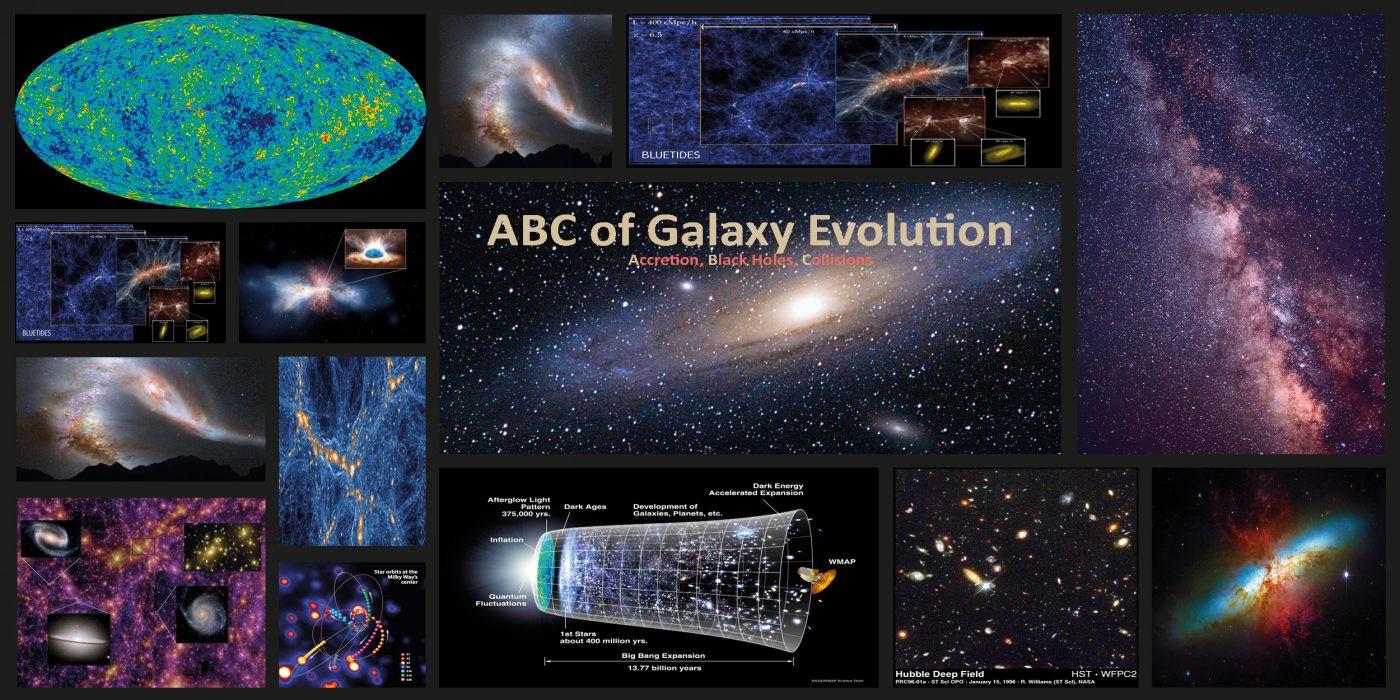 In this talk Dr Steve Barrett will give an overview in the ABC of galaxy evolution from the Big Bang to their evolution.
Accretion
Galaxies were formed by matter created in the Big Bang accreting under the influence of gravity.
Black Holes
Supermassive black holes are at the centres of galaxies; some are very active, some are quiescent.
Collisions
Galaxies grow by colliding and merging with other galaxies over billions of years.
The study of galaxy formation and evolution is concerned with the processes that formed a heterogeneous universe from a homogeneous beginning, the formation of the first galaxies, the way galaxies change over time, and the processes that have generated the variety of structures observed in nearby galaxies.
Galaxy formation is hypothesized to occur from structure formation theories, as a result of tiny quantum fluctuations in the aftermath of the Big Bang.
One hypothesis says that galaxies were born when vast clouds of gas and dust collapsed under their own gravitational pull, allowing stars to form. …
The other hypothesis, which has gained strength in recent years, says the young universe contained many small "lumps" of matter, which clumped together to form galaxies.
When Where Who
Date: Sunday 21st August 2022,
Time: 7pm.
Speaker: Dr Steve Barrett, Department of Physics, University of Liverpool.
Venue: At the Washington Wetlands Centre (discovery Room ) and Via Zoom.
Our speaker
Dr Steve Barrett, Department of Physics, University of Liverpool.
Steve is a Senior Research Fellow in the Department of Physics, my research interests span all aspects of imaging, image processing and image analysis.
This includes medical imaging (biophysics), scanning probe microscopy of atoms, molecules and surfaces (nanophysics), microscopy of earth materials (geophysics) and astrophotography.
Honors & Prizes:
Sir Patrick Moore Prize (British Astronomical Association, 2019)
Greatest Contribution to the Student Experience (U Liverpool, 2017)
Senior Fellow of the HEA (Higher Education Academy, 2015)
Guild 'Lion' Award (Liverpool Guild of Students, 2010)
Institute of Physics Prize (Institute of Physics, 2007)
Sir Alastair Pilkington Award for Teaching Excellence (U Liverpool, 2004)
The talk will held at the Washington Wetlands Centre (Discover Room) on Sunday and will run via Zoom .
If you haven't been in a while why not come along.
Talks at the Wetlands and via Zoom
Talks at Wetlands Centre
The SAS is planning to run this lecture from the our base of operations Washington Wetlands Centre (in the usual Discovery Room) and via Zoom.
Suitable hand sanitisers will be located in the room and at the our observatory.
Talks via Zoom
Due to current Washington Wetlands Centre pandemic group gatherings advice we have previously run SAS lectures via Zoom Pro which has worked quite successfully.
This has also enabled the society to widen our scope of speakers and to contact and deliver talks from SAS speakers/professional astronomers from further afield nationally and internationally.
We aim to continue this capability depending upon the circumstances and/or location of the speaker for the talk.
Zoom Access
Therefore if you interested in viewing and participating (i.e. Q&A) in this month's talk, please send an email request to zoom-meetings@sunderlandastro.com
Stating your:
Name
And if you are a member or if you have a just a general interest in attending our lecture(s)
We will then send you details on How to join the Zoom video meeting for the SAS talk.
The requisites will be:
Meeting ID – 375 091 0450
Password Begins with "C*****"
Your host : Martin Kennedy