Beamish Stargazing Event 2 of 2 (Cancelled)
About this event :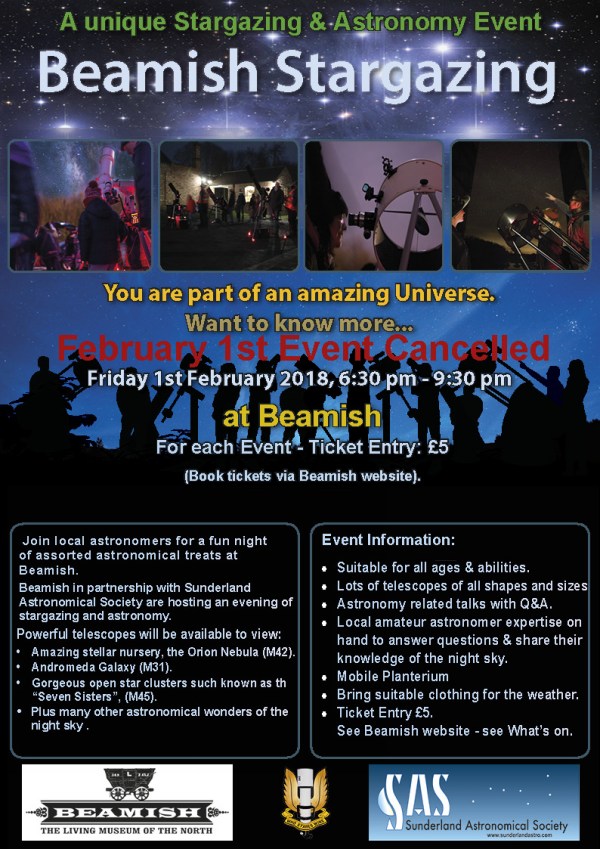 The event is Cancelled due to Weather Conditions. See Beamish Website for Ticket Refund(s).
One of the North Easts largest Museums and largest Astronomical Societies have teamed up give the public a truly unique astronomical event, to Inspire, Educate and Inform the public on the amazing show going on above our heads.
Date: Friday 1st February 2019.
Times: from 6:30 pm – 9:30pm.
Price: £5 Ticket Entry (tickets can be booked and purchased via the Beamish website, Beamish Events Bookings).
Event size: 500, so get your tickets asap!
Last year was a sell out within hours of opening event
Join local astronomers from across the North East for a fun night of assorted astronomical treats at the several sites at Beamish.
SAS members: who are participating in this event, please contact the SAS chairman, whether you have telescope or would just like to help out/support the event in any way asap.
We need as many SAS members astronomers & volunteers as possible with & without telescopes to support these events.
Powerful telescopes will be available to view:
---
Globular cluster, double cluster M31.
Amazing stellar nursery, the Orion Nebula (M42).
Andromeda Galaxy (M31)
Gorgeous open star clusters such as "The Seven Sisters" .
Plus many other wonders of the night sky.
Ticket Entry: £5 (booking via Beamish website, see what's on webpages)
Contributions to Society fundraising nonetheless welcomed.
Information & Activities:
---
Suitable for all ages and abilities.
30+ telescopes of all shapes and sizes.

Look to the heavens through 2 very large 16″ Dobsonian telescopes.
Plus many more society members telescopes of all shapes and sizes.

Lots to see and do.
Two designated sites for talks and observing, plus a mobile planetarium.
Accessible telescopes and transport available.
Interactive presentations & demonstrations with Q&A.
Expertise & advice from local astronomers.
Mobile Planetarium (places booked for extra £1.first come first served).
Videos and Demonstrations.
Live View Telescope connected to large TV for group views.
Complimentary Stargazing friendly torches supplied upon entry at reception.
Refreshments available to buy.
Bring suitable clothing & footwear for the weather.
Your host : Martin Kennedy