RSC Astrochemistry Themed Event at Cygnus Observatory
About this event :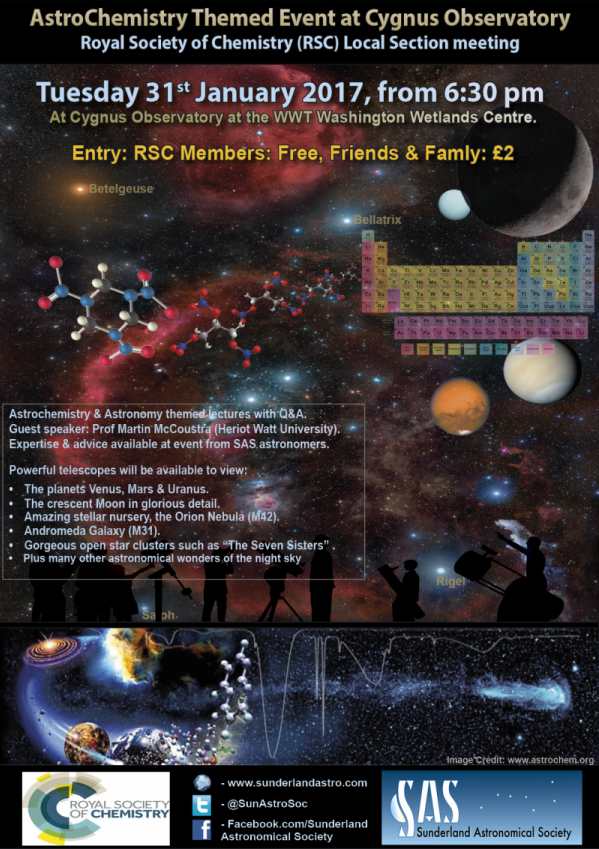 Back by popular demand, Sunderland Astronomical Society are hosting an event for the Royal Society of Chemistry (Local section members).
Date: Tuesday 31st January 2017.
Time: from 6:30 pm.
Entry: RSC Members: Free, Friends & Family: £2.
(Contributions to SAS fundraising nonetheless welcomed).
Royal Society of Chemistry members from across the North East are invited to attend for a fun night of assorted astronomical treats at the Cygnus Observatory  and various SAS members telescopes of all shapes and sizes at/around the WWT Washington Wetlands Centre.
Note: This is a private event for RSC members and friends and family.
Support Required: We need as many SAS members astronomers & volunteers to participate as possible with & without telescopes to support this event.
High Resolution PDF of the event poster available to download.
Powerful telescopes will be available to view:
---
The crescent Moon in glorious detail.
The planets Mars & Venus.
The planet Uranus, seventh planet outward from the sun.
Globular cluster, Open Galaxy Clusters,  Double Clusters(NGC 869/884)
Amazing stellar nursery, the Orion Nebula (M42).
Andromeda Galaxy (M31)
Gorgeous open star clusters such as "The Seven Sisters" (M45).
Plus many other wonders of the night sky.
RSC members: Free, Friends & Family: £2
All proceeds go directly to the SAS fundraising.
Contributions to Society fundraising nonetheless welcomed.
Information & Activities:
---
Suitable for all ages.
Telescopes of all shapes and sizes.
Lots to see and do.
New "All Access" telescope available to wheelchair users.
Interactive presentations with Q&A.

Guest speaker: Prof Martin McCoustra (Heriot Watt University).

Expertise & advice from local SAS astronomers.
Videos and Demonstrations.
Stargazing friendly torches to buy at reception

Lots of other society related merchandise to buy

Refreshments available to buy.
Bring suitable clothing for the weather.
Your host : Martin Kennedy