Big Science Event 2015
About this event :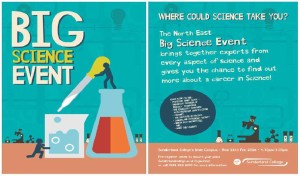 The Big Science Event at Sunderland College (at Bede Campus) is now a well established annual event.
This event will be on Wednesday 11th February 2015 (4:30pm – 7pm) at the Bede Campus, and they are hoping that it will be bigger and better!
As part of our Sunderland Astronomical Society outreach SAS has been invited to attend. Bring your scopes, astro kit, yourselves and enthusiasm.
For more informationon see the Event programme, SAS have room H218 for the duration of the event to do our thing.
The aim of the event is to raise awareness of the broad range of careers that can follow from the study of sciences and mathematics at college & univiersities and beyond.
Sunderland College are inviting current A-level and BTEC Applied Science students, as well as opening up the event for pupils from Sunderland Schools. We are encouraging parents to come along, as we have found that the support of the family is crucial in the decision making process.
Last year, 300 people attended the event and this not only increased our enrolments for science, but maintained our 95% progression to study science related courses at university.
Sunderland College have always been well supported by our local universities, and we would like to further develop our links. We would also like to extend the number of representatives from local employers and industries.
The event will be held at our Bede Centre, Durham Road, Sunderland. We have booked the main hall, where you can have a table and room for a stand/display, or you can have a classroom if you would prefer more room or for presentations. All classrooms have computers and interactive whiteboards.
We are hoping to publicise the event in the Sunderland Echo and on Sun FM, before and after the event.
If you have any questions, please do not hesitate to contact me and I would be delighted to provide further information.
For further information call 0191 511 6000:
Marianne Hill
Curriculum Leader for Sciences and Mathematics
Sunderland College
Your host : Martin Kennedy