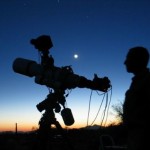 Summer Lecture 1: How to take deep sky photos with Chris Duffy from 7.00pm.
Join us for the start of our 'SAS Summer Lectures' as our very own Chris Duffy takes you through:
How he has his gear set up,
How to take amazing astro images,
How to polar align using sharpcap,
How to set up in APT so that you too can get the amazing astrophotography pics that Chris achieves.
However, this is in no way a guarantee but he'll try his best :- )
When Where
Date: Sunday 30th June 2019,
Time: 7pm.
Speaker: Chris Duffy.
Venue: Will take place at the Cygnus Observatory (WWC Discovery Room).
Our speaker
Our speaker is Chris Duffy is former committee member and active member of SAS. He also works as a professional astronomer at the Battlesteads Observatory.
Chris is the astrophotography director at AstroVentures, an expert astrophotographer and astronomy teacher with a passion for Dark Sky objects.
A committee member of Sunderland Astronomical Society, Chris gives expert talks and presentations to society members and the public at the society's outreach events,
Chris has been specialising in deep sky astrophotography for the last 5 years and is recognised as an accomplished photographer of faint distant objects using long exposure techniques,
He is one of the lead astronomers at Battlesteads since it's opening in 2015 and hosts the monthly astrophotography courses at the observatory.