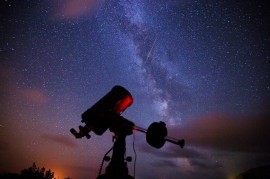 The Autumn is one of speaker Dave Newton's favourite times of year for astronomy, thanks in part to the longer, darker nights.
Importantly, in Autumn evenings we are looking away from our own galaxy (the Milky Way) and into the deep space beyond.
The Autumn constellations have a decidedly watery theme, containing Pisces the fishes, Cetus the sea monster, and Aquarius the water bearer amongst other.
While this patch of dark sky is seemingly devoid of bright stars, it is home to some fascinating objects.
Dave will show us some of the sunken treasures that can be found if you are prepared to go diving in this deepest part of the sky.
Details