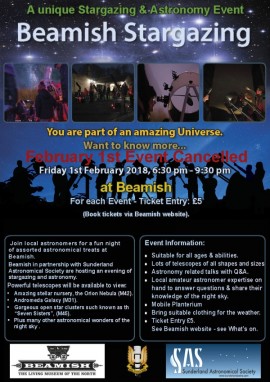 The event is Cancelled due to Weather Conditions. See Beamish Website for Ticket Refund(s).
One of the North Easts largest Museums and largest Astronomical Societies have teamed up give the public a truly unique astronomical event, to Inspire, Educate and Inform the public on the amazing show going on above our heads.
Date: Friday 1st February 2019.
Times: from 6:30 pm – 9:30pm.
Price: £5 Ticket Entry (tickets can be booked and purchased via the Beamish website, Beamish Events Bookings).
Event size: 500, so get your tickets asap!
Last year was a sell out within hours of opening event
Join local astronomers from across the North East for a fun night of assorted astronomical treats at the several sites at Beamish.
Details