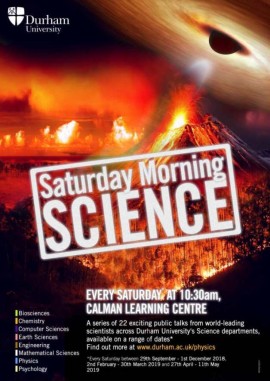 A series of 22 exciting public talks from world-leading scientists across Durham University's Science departments, called "Saturday Morning Science" from Saturday 29th September 2018 to the Saturday 11th May 2019, starting at 10:30am.
Talks on every Saturday between dates:
29th September 2018- 1st December 2018,
2nd February 2019 – 30th March 2019,
27th April 2019- 11th May 2019
What: Saturday Morning Science Talks
When: Saturday dates above from the 29th September 2018 to the 11th May 2019
Where:
All talks take place at Durham University's CALMAN Learning Centre. For location, see the
Saturday Morning Science Programme
(at the end of the programme "Getting There").
Details