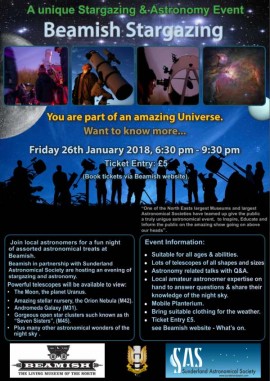 One of the North Easts largest Museums and largest Astronomical Societies have teamed up give the public a truly unique astronomical event, to Inspire, Educate and Inform the public on the amazing show going on above our heads.
Date: Friday 26th January 2018.
Times: from 6:30 pm – 9:30pm.
Price: £5 Ticket Entry (tickets can be booked and purchased via the Beamish website, Beamish Events Bookings).
Event size: 350, so get your tickets asap!
Join local astronomers from across the North East for a fun night of assorted astronomical treats at the several sites at Beamish.
Details