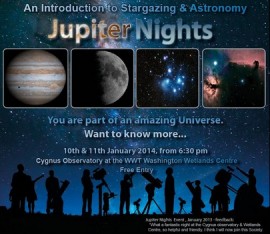 Jupiter Nights is part of our annual two night astronomical extravaganza, which also coincides with the Stargazing Live shows on BBC2, and that also promotes the BBC's local astronomy events on the "Things To Do" website.
Held on Friday & Saturday, 10th & 11th January, from 6:30 pm at  our Cygnus Observatory and inside WWT Washington Wetlands Centre.
For an evening full of assorted treats in the night sky, join our local astronomers in observing the wonders of the universe.
Powerful telescopes will be available to unveil the Moon, the giant planet Jupiter and its four largest moons; the amazing stellar nursery called the Orion Nebula; a gorgeous collection of star clusters including "The Seven Sisters" and "The Beehive;" plus many other wonders of the Universe.
Free Entry. No tickets required.
Details