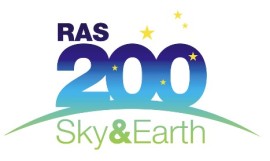 In 2020 the Royal Astronomical Society will be 200 years old.
To celebrate their bicentennial, the Royal Astronomical Society (RAS) is establishing an Outreach and Engagement Fund of £1,000,000 to support astronomy and geophysics projects that create a real buzz about science – understanding, discussion and dialogue – in diverse sections of the community.
RAS are asking if you're involved with a local or national organisation that might be able to help, we'd like to hear from you, particularly if you can add to the RAS fund, so that we can make a greater and more lasting impact.
So how about SAS? You interested in contributing? Contact: chairman@sunderlandastro.com.
We were  old that fund is not available for capital expenditure for telescopes and observatories, although there may be some exceptions.
Some of our committee attended one of the Town hall meetings in October 2016.
Deadline date for phase-1 proposal is 9th December 2016 (proposal on 1 page of A4). Could be some funding available for SAS and some very good networking connections to be made.
Details