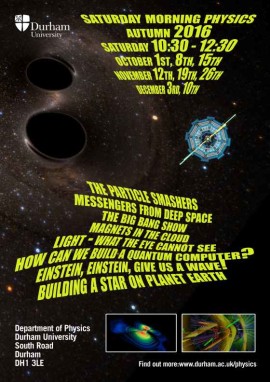 The Durham University's physics department is running a new outreach activity called "Saturday Morning Physics" on six Saturdays in October,  November and December, starting at 10:30.
Aimed at school pupils, high school students and all adults interested in Modern Physics and other natural sciences.
Some of the Physics department's world class scientists will talk on their fascinating research topics including astrophysics, cosmology, materials science, lasers, quantum mechanics and particle physics.
The talks will take place in the Physics Department at Durham University, on eight Saturday mornings during October, November and December 2016.
Details