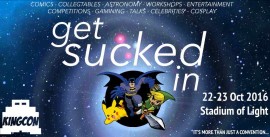 Sunderland Astronomical Society (SAS) have been invited to participate in the Kingcon Comicon Convention this year in/at the Stadium Of Light on the Saturday 22nd & 23rd October 2016.
Details are TBC, but here is what we have so far. There may be some solar observing outside and promoting astronomy & the society inside.
So if you have a telescope or not and just want to help out your society, contact:
visits-events@sunderlandastro.com or chairman@sunderlandastro.com for more information.
Details