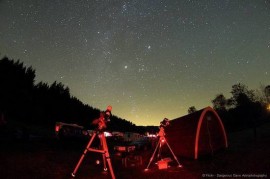 The Kielder Forest Star Camp runs from Wednesday 18th March 2020 from 12:00 pm to Sunday 22nd March 2020 12:00pm.
————
Notice: As of 13th March 2020
Organisers have had a query about the present virus emergency in relation to the Starcamp.As an open air event we will go ahead with our get together, but needless to say we should all follow the Government's public health message, namely:
Bring plenty of soap and wash your hands thoroughly and often.
If you have recently developed cold symptoms you should self-isolate and not attend.
They'll keep the main day under review with the possibility we may cancel to avoid you being cooped up in a smallish room together for a few hours. The warm room will be open.
They think this is a balanced response in what is a fast moving situation. .On the positive side the weather is forecast to improve.
Clear skies,
———–
The Kielder Forest Star Camps are run twice a year, in the spring (usually in Feb/March) and in the autumn(usually in October).
Originally setup and organised by members of Sunderland Astronomical Society(SAS), and now organised by the Kielder Forest Camp Site.
All activities on the main day Saturday are free to attend.
Details