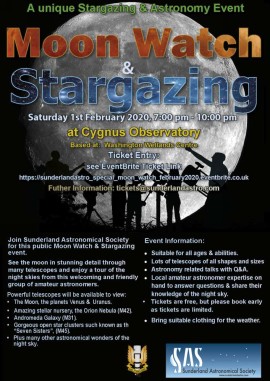 Visit the Cygnus Observatory based at the Washington Wetlands Centre for an evening dedicated to our nearest celestial neighbour.
See the moon in stunning detail through many telescopes and enjoy a tour of the night skies from this welcoming and friendly group of amateur astronomers.
Powerful telescopes will be available to view:
The Moon.
Amazing stellar nursery, the Orion Nebula (M42).
Andromeda Galaxy (M31).
Amazing open star clusters including the spectacular "Seven Sisters", (M45).
Plus many other astronomical wonders of the night sky.
Date: Saturday 1st February 2020.
Times: from 7:00 pm – 10:00pm.
Price: Free Entry (Ticket Booking required)
Details