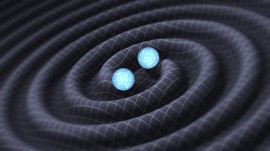 Just over one hundred years ago Einstein predicted the existence of gravitational waves on the basis of his General Theory of Relativity.
For over 20 years physicists have been trying to catch the first gravity wave without success until February 2016 when the Laser Interferometer Gravitational-Wave Observatory (LIGO) announced that they had recorded the ripples from two black holes colliding.
The Dr Pete Edwards talk will focus on this historic discovery, the technology behind gravitational wave detectors and explore the dawn of multi-messenger astrophysics.
There are many wonderful images (public domain) at the LIGO website
https://www.ligo.caltech.edu/images
Gravitational waves offer a new way to uncover the universe.
Details