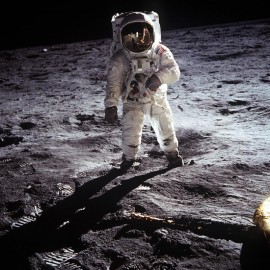 21st July 2019 marks the 50th anniversary of the first moonwalk, when Apollo 11 commander Neil Armstrong became the first human to set foot on another world.
For a brief period, the Moon became our first outpost in the wider cosmos before the manned missions ceased in December 1972.
In total, only 12 men ever walked on the Moon.
Yet, Armstrong's 'small step for a man' changed our view of the universe, and more, profoundly.
In this talk, Dave Newton reflects upon the Apollo programme, its highs and lows, the scientific discoveries, and Apollo's impacts on the world that are still being felt today.
Details