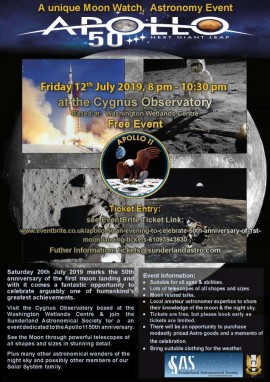 Saturday 20th July 2019 marks the 50th anniversary of the first moon landing and with it comes a fantastic opportunity to celebrate arguably one of humankind's greatest achievements.
Visit the Cygnus Observatory based at the Washington Wetlands Centre & join the Sunderland Astronomical Society for a an event dedicated to the Apollo 11 50th anniversary.
See the moon in stunning detail through many telescopes and enjoy a tour of the night skies from this welcoming and friendly group of amateur astronomers.
Powerful telescopes will be available to view:
The Moon.
Plus many other astronomical wonders of the night sky.
And possibly other members of our Solar System family.
Date: Friday 12th July 2019.
Times: from 8:00 pm – 10:30 pm.
Price: Free Entry (Ticket Booking required)
Details