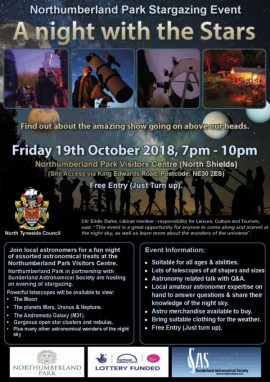 Back by popular demand, Sunderland Astronomical Society are will visiting Northumberland Park).
Date: Friday 19th October 2018.
Time: from 7:00 pm – 10:00 pm.
Entry: Free (Contributions to SAS fundraising nonetheless welcomed).
SAS have been asked by the Northumberland Park (the park in North Shields) to hold a Stargazing event on Friday 19th October 2018 from 7.00pm till late.
Details