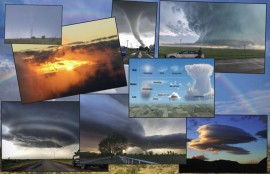 Next to light pollution, the biggest enemy of the astronomer is the cloud cover. Clouds are annoying for our hobby, for all they play an important role to our eco system.
With the summer just going and before astronomy gets back into full swing, why not talk about the weather?
What are clouds,
What types are there,
Can weather be more exciting than a drizzly and foggy November day?
In this lecture Dr Jurgen Schmoll gives some background information and shows some exciting footage of storm chasing in the great plains of the USA.
Details