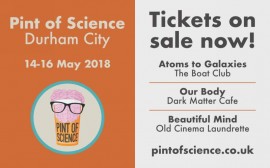 Pint of Science is a global science festival that takes place in pubs across the world between the 14th and 16th of May.
This year, they are having an 'Atoms to Galaxies' event at the Boat Club in Durham city centre; our members will likely be most interested in the talks on Gazing at galaxies: what we know about the Universe
that are being given by some fantastic astronomers from the Durham Physics department.
Pint of Science is a non-profit organisation that brings some of the most brilliant scientists to your local pub to discuss their latest research and findings with you.
Details