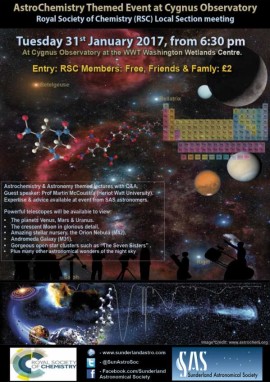 Back by popular demand, Sunderland Astronomical Society are hosting an event for the Royal Society of Chemistry (Local section members).
Date: Tuesday 31st January 2017.
Time: from 6:30 pm.
Entry: RSC Members: Free, Friends & Family: £2.
(Contributions to SAS fundraising nonetheless welcomed).
Royal Society of Chemistry members from across the North East are invited to attend for a fun night of assorted astronomical treats at the Cygnus Observatory  and various SAS members telescopes of all shapes and sizes at/around the WWT Washington Wetlands Centre.
Note: This is a private event for RSC members and friends and family.
Details