Sunday 8th June 2014 will be the date of the fundraising bike ride from our dark sky observing site at Derwent Reservoir to the Cygnus Observatory in Washington. The route is 28 miles and takes us on a mixture of C2C cycle paths and quiet country lanes.
The purpose of the bike ride is to raise funds for essential maintenance and upgrading of the Cygnus Public Observatory so also included is a sponsorship form which we encourage all participants to use.
We are planning to leave Derwent around 10.30 am leaving plenty of time to arrive back at Cygnus in the afternoon before the Society's workshop meeting that evening!
The beginning of the ride is a new dual-purpose cycle/walking path which will take us round the shore of the Derwent Reservoir down to the dam. Here we pick up local quiet country lanes for the most demanding part of the ride with a couple of tricky climbs. We'll eventually meet up with the
Coast to Coast cycle route near the village of Rowley near the A68 and we'll stay on the C2C right back to the Wetlands Centre via Castleside, Consett, Anfield Plain, Stanley, Pelton, Birtley and Fatfield. Follow this link to see a
detailed map of the route
:
We might even have some members waiting to greet us on our arrival at Cygnus. The purpose of the ride is to raise money for the improvements to our observatory that are planned for this year.
We can provide sponsor forms to those who would like them and we are going to set up a JustGiving text facility.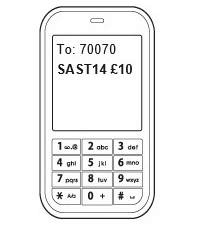 There is a
Just Giving
text facility to sponsor the group and you can make your donation. To make a donation simply text SAS's code number which is
SAST14
and the amount you wish to donate to the text number
70070
and that's it, job done. The example in the pic is how to donate £10.
All we ask is that anyone taking part makes their friends aware that they are doing the ride and how they can donate if they wish.
Of course, hassling friends, family and colleagues for sponsorship isn't everyone cup of tea so we have set up a Just Text Giving account for the SAS. We therefore ask that participants at the very least  draw attention to the fact that they are taking part in this event and provide details of how people can make donation by text if they wish. Riders can even make a donation themselves if they like.
If you are interested in participating, or getting more information on the logistics and details of the route, they can be obtained via our
Facebook SAS group page
, look for "DERWENT TO CYGNUS CHARITY BIKE RIDE"  and post a related query.
Related posts